An Introduction to Aso's Geosites
What is a geosite?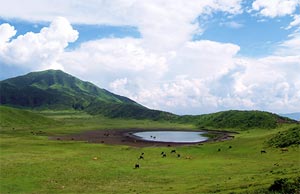 The term "geosite" refers to sites within the geopark that have been recognized as important elements of the park's natural heritage. Some of these sites have been selected because they provide opportunities to experience the relationship between geology and history, culture, or daily life, as well as for their geological or topographical characteristics.
Thirty-three geosites are located in Aso Geopark. These sites are keys to understanding the land and people of Aso Volcano. Visiting them is a great way to learn more about the geology, history, and culture of the park.
※Geo is a prefix that can mean earth, land, or ground
Map of Aso's Geosites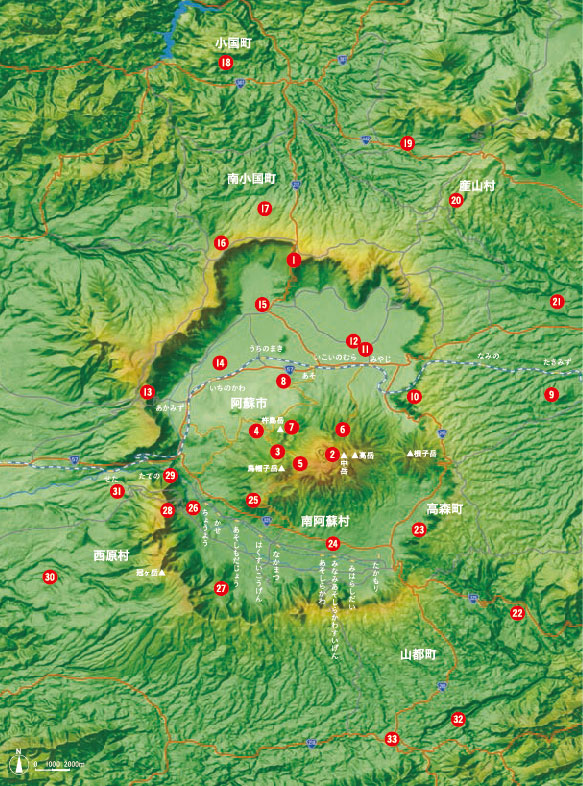 List of Geosites
Number
Geosite Name
Theme
Related Geo-points
1
Daikanbo Caldera Geosite
Experience a world-class caldera (view from the north)
2
Nakadake Geosite
Sense the activity of the earth through an active volcano
Nakadake Crater, Sunasenri-ga-hama
3
Kusasenri Geosite
Grazing land and volcanic activity
Kusasenri-ga-hama, Aso Volcano Museum, Kusasenri-ga-hama Observation Station, Mt. Eboshidake
4
Komezuka Geosite
Topography and geological features formed by a relatively new volcanic group
Komezuka, Kami-Komezuka
5
Furubochu Geosite
Volcanic activity and mountain religion
Furubochu
6
Sensuikyo Gorge Geosite
Rocky peaks and alpine plants
Sensuikyo Gorge, Mt. Takadake
7
Mt. Kishimadake Geosite
Recent volcanic activity dating to several thousand years ago
Mt. Kishimadake, Mt. Ojyodake
8
Fumotobochu Geosite
One town's history and culture
Saigandenji Temple, Aso Den'en Kukan Eco Museum
9
Mt. Ogidake Geosite
An isolated peak on the pyroclastic flow plateau
Mt. Ogitake
10
Koganotaki Falls Geosite
Falls on the outer rim of the caldera
Koganotaki Waterfall
11
The Deity of the Volcano Geosite
Seek the roots of the culture centered on Aso Volcano
Aso Shrine, Kokuzo Shrine, Kaminokokura and Shimonokokura Burail Mounds,
12
Cluster of Springs in Aso Valley District Geosite
Alluvial fan and artesian aquifer
Miyaji and Yakuinbaru district springs
13
Futaenotouge Mountain Pass Geosite
Myths and history
Futaenotouge Mountain Pass, Sankin-kotai Road, Matoshi (Matoshi teahouse and remains of pond)
14
Aso Yellow Ocher (Aso Odo) Geosite
Environmental and cultural gifts from the volcano
Aso Yellow Ocher (Limonite)
15
Uchinomaki Hot Spring Geosite
Historic hot spring town
Uchinomaki Hot Spring
16
Milk Road Grassland Geosite
Vast grasslands cover the north rim
Grassland scenery
17
Oshito-ishi Geosite
Fusion of nature and culture
Oshito-ishi
18
North Outer Rim Pyroclastic Flow Geosite
Understanding the vast pyroclastic flow
Nabegataki Falls, Yusuikyo Gorge, Nanataki Falls, Aso pyroclastic flow deposits (on Yamanami Highway)
19
Oguni-go Area Hot Spring Geosite
Hot spring village formed by volcanic activity
Minami Oguni hot spring village, Tsuetate Hot Spring, Suzume Jigoku, Waita hot spring village
20
Ikeyama and Yamabuki Geosite
Sources of spring water
Ikeyama Spring, Yamabuki Spring
21
Sankin-kotai Road Geosite
Road utilizing natural topographic features
Sankin-kotai Road
22
Kusakabe Geosite
Kudariyama Shrine, dedicated to the god of Aso
Kusakabeyoshimi Shrine
23
Camel Mountain (Rakuda-yama) Geosite
Scenery featuring intrusive rocks
Camel Mountain (Rakuda-yama), Minami-Aso Visitor Center, Aso Wildflower Garden, Aso Folk School, Mt. Nekodake
24
Cluster of Springs in Minami-Aso District Geosite
Springs created by the volcano and the daily life of local people
Minamiaso Village Spring Group, Takamori Spring Tunnel
25
Jigoku and Tarutama Hot Springs Geosite
Geothermal area and hot springs, explosion crater
Ikenokubo, Jigoku and Tarutama Hot Springs
26
Nango Valley Geosite
Characteristic topography related to the formation of Nango Valley
Terraced topography of Nangodani Valley
27
Mt. Rakanyama Geosite
Understand unusual formations
Unusual rock formations at Mt. Rakanyama, Zizo-toge Pass natural dikes
28
Tawarayama Mountain Pass Caldera Geosite
Experience the grand scale of the caldera (view from the south)
Aso Caldera, Tawarayama Lookout
29
Tateno Gorge Geosite
Intersection of fault activity
Tateno Gorge, Sugarugatak Falls, Ayugaerinotaki Falls
30
Shiraitonotaki Falls Geosite
Waterfall formed by lava on the outer rim
Shiraitonotaki Falls
31
Omine Volcano Geosite
Visit and active fault
Omine Volcano, Takayubaru laval plateau
32
Soyokyo Gorge Geosite
A beautiful valley created by a volcano and springs
Soyokyo Gorge
33
Heitate Shrine Geosite
Connect with the world of the gods
Heitate Shrine