Geosite introduction of Aso
1.Daikanbo Caldera Geosite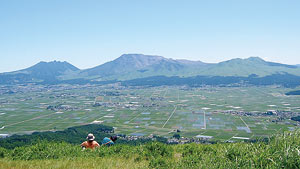 This site offers a northern view of one of the world's largest calderas, measuring 18 km east-west and 25 km north-south. It was created by a series of eruptions that took place between 270,000 and 90,000 years ago, covering northern Kyushu in pyroclastic flow deposits. The deposits that escaped erosion over the millennia today total approximately 175 cubic Kilometers.
Located on in the northern section of the outer rim, Daikanbo offers the best view of the entire caldera. Looking south from the geosite to the interior of the caldera, you will see the central cone group ranged from east to west between caldera walls towering 300 to 500 m on either side. Just below your eyes stretches the pastoral landscape of Asodani Valley, and not far off is the expanse of grasslands long managed by local farmers. Taking in Daikanbo's 360-degree view is an ideal way to gain an overall understanding of the coexistence between human communities and the active volcano.
Related Geo-points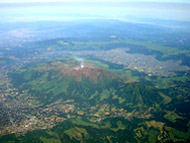 Aso Caldera
Aso caldera was formed by huge pyroclastic flow eruptions between 270,000 and 90,000 years ago. It is distinguished from most other calderas in the world by its clearly visible caved-in topography.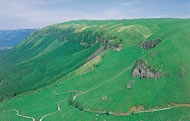 Daikanbo
A viewpoint offering the best panorama of the Aso Gogaku mountains and the entire caldera. Locals used to call the site Tomigahana, a name the journalist and historian Tokutomi Soho (1863-1957) is said to have bestowed on it.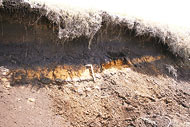 Akaho-ya Volcanic Ashes
This layer of ash was deposited when Kikai Caldera, an underwater volcano located to the south of Kagoshima Prefecture's Satsuma Peninsula, erupted 7,300 years ago. The bright orange band of the ash layer sandwiched between black soil is particularly easy to observe on roadsides in the northern portion of the outer rim.