Geotourism Programs
What is geotourism?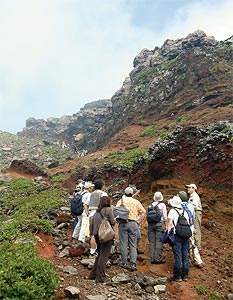 Geotourism engages travelers with the stories of the earth (geo) as they travel. They go beyond just enjoying the scenery to take an interest in and gain a new understanding of earth science phenomena. The focus of geotours ranges from geology, topography, and landscapes to fossils, rocks and minerals.
Aso Geopark is distinguished by its world-class caldera and the Aso Gogaku mountains within it, as well as the fauna and flora of the surrounding plateaus and the human communities that coexist with the volcano and its natural environment. Each is a unique story of its own.
Even before the Geopark was established, the Aso region had a well-established ecotourism industry that introduced visitors to the caldera topography, natural environment, grasslands, and old-growth beech and cedar forests. In fact, these programs can be considered geotours. The goal of the Geopark is to develop new ways to share Aso with visitors. The park cooperates with existing ecotourism and green tourism operators to offer a range of geotourism options unique to the region.
Five geotourism programs
Aso Geopark offers five geotourism programs to deepen your understanding of its central theme, the natural environment and human life of Aso Volcano. These programs were developed through a vigorous dialogue between the guides and the Aso Geopark Promotion Council. We hope you'll use our five Goutourism Maps to enjoy Aso's story through sightseeing, learning, and cuisine!
Aso Geotours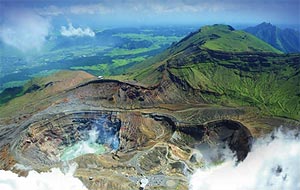 Aso Geotours were developed around the five geoutorism programs listed above. Each is led by a certified Geopark Guide. Come explore the hidden stories of Aso with our guides!
Information and registration
Aso Travel Desk / Tel: 0967-67-2136
Aso Geopark Bus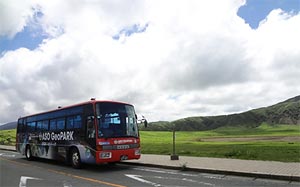 The Aso Geopark Bus debuted on August 1, 2012. It is operated as part of Kyushu Sanko Bus Company's Aso Mountain-Climbing Line, famous for its fantastic views of the geopark. Running 14 times a day, the bus departs from JR Aso Station at the foot of the mountains and travels to the Aso Ropeway (Asozan-minami Station) via Kusasenri, offering convenient access to popular geosites including Uchinomaki Onsen, Kishimadake, Komezuka, Kusasenri, Mt. Nakadake, and Furubochu. Pamphlets about the park are available onboard, as are explanatory announcements. We hope you'll hop on and enjoy the magnificent scenery outside the windows as the bus takes you to your destination.
Aso Caldera Tours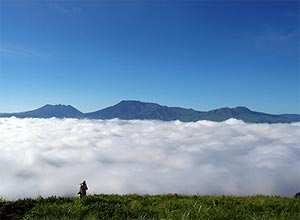 Aso Caldera Tours are available to guests at 27 inns and hotels belonging to the Aso Hotspring Inn Union. Whether its spring, summer, fall, or winter, you'll find an exciting lineup of programs. The unique seasonal tours include "Walking the Aso Geopark," "Walking Aso's Crater with a Geoguide," "Mist and Mountains," and "Winter Ice Tour."
Contact
Aso Hotspring Inn Union / TEL: 0967-32-1960
http://onsen.aso.ne.jp/calderatour/