Geosite introduction of Aso
15.Uchinomaki Hot Spring Geosite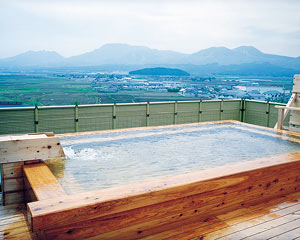 A historic hot spring town
This hot spring district is dotted with approximately 80 water sources and nearly thirty inns, as well as 11 public baths frequented by local residents. The district has historically been a popular retreat for cultural figures including the writers Natsume Soseki, Taneda Santoka, and Tekkan and Akiko Yosano, with many literary works created here.
Uchinomaki Hot Spring
A storied hot spring district long frequented by cultural figures. Located in what was once an inlet of the ancient caldera lake, some experts believe the area was formerly a crater.