Geosite introduction of Aso
23.Camel Mountain (Rakuda-yama) Geosite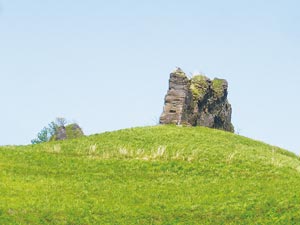 Scenery featuring intrusive rocks
Rakudayama, or Camel Mountain, features a prominent dyke, which in geological parlance refer to a rock that forms in a crack in an older rock. This geosite is an excellent place to understand how that process works. Because the rock is easily approachable, visitors can examine the surface of the dyke as well as its cross-section, a columnar joint, in detail. Minamiaso Visitor Center and adjoining Aso Wildflower Garden, whose collection focuses on Aso's plant life, are located nearby.
Camel Mountain (Rakuda-yama)
This exposed section of an intrusive dyke measuring 5 m thick and several dozen meters from east to west cuts into the southeastern section of Aso's caldera wall, which is made of pyroclastic basalt pre-dating Aso Volcano. The name Rakudayama means Camel Mountain and originates in the fact that the dyke resembles a camel's back when viewed from its north or south side.
Related Geo-points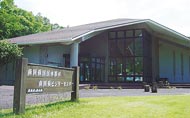 Minamiaso Visitor center and Aso Wildflower Garden
This visitor center and garden introduces the nature and culture of the Aso region and provides a chance to encounter the region's wild plants up close. A staff-led tour or observation walk is a great way to explore the naturalistic gardens filled with Aso's diverse wildflowers and other plants.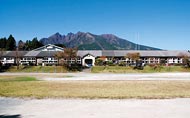 Aso Folk School
Located in a former elementary school built in 1951, Aso Folk School offers a place to learn about the lifeways and culture of previous generations. When the Kamishikimi Elementary School shut down in 2003, a group of graduates and local artisans and writers came together to preserve the traditional wood structure, creating this innovative center.