Geosite introduction of Aso
19.Oguni-go Area Hot Spring Geosite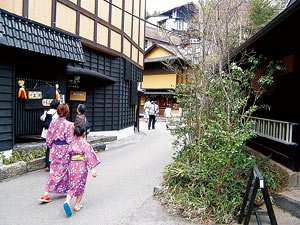 A hot spring village formed by the volcano
Abundant hot springs heated by Kuju Volcano dot the area from Minamioguni Village to Oguni Village. The most famous is Kurokawa Onsen in Minamioguni. Located at an elevation of 700 m along the steep valley of the Tanobaru River, a tributary of Chikugawa River, the streets of this quiet mountain resort are lined with nostalgic inns. During the Edo era (1603-1868), the village served as a way-station on the Sankin-Kotai Road where daimyos and other weary travelers stopped to rejuvenate themselves. Today the atmospheric lanes are filled with tourists wrapped in brightly-colored cotton yukatas on their way to and from the hot springs. In addition to the public baths, each inn offers its own unique out-door bath that visitors can access with an onsen pass.
Minami Oguni Onsen Village
Minami Oguni launched itself as a spa town in 1961, and today is famous throughout Japan for hot springs such as Kurokawa, Tanobaru, Oda, Manganji, Ogi, and Shirakawa.
Related Geo-points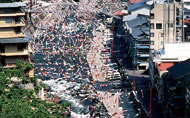 Tsuetate Onsen
Located in the far north of Aso Geopark, Tsuetate's hot springs are heated by Kuju Volcano. According to local legend, Kukai, the great Buddhist teacher of the early Heian era (794-1184), visited this region during his travels and was deeply impressed by its hot springs.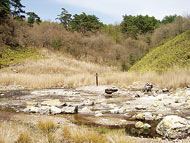 Suzume Jigoku
Volcanic activity at Kuju Volcano is the source of the gasses emitted in this wetland area dubbed Suzume Jigoku, or "sparrow hell." The gas contains toxic hydrogen sulfide, which explains the grim name. The white rocks visible in the area get their color from hydrothermal processes related to the acidic water.