Geosite introduction of Aso
28.Tawarayama Mountain Pass Caldera Geosite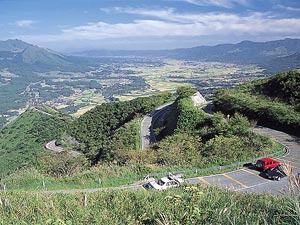 Experience the grand scale of the caldera (view from the south)
Measuring 18 km from east to west and 25 km from north to south, Aso is one of the world's largest calderas and is home to 50,000 people. The large grasslands covering much of the caldera and its surrounding regions have been maintained by over 1,000 years of burning, grazing, and grass harvesting by local farmers. A number of volcanos reaching from 1,000 to 1,600 m high comprise the caldera's central cone group, including the still-active Mt. Nakadake. The stunning volcanic landscape and the pastoral scenery molded by human habitation come together in an unparalleled environment.
Daikanbo and Tawarayama geosites offer the best opportunities to observe the entire caldera. Located on the caldera's western rim, Tawarayama Lookout provides a sweeping view from the west. In particular, visitors will be able to observe the Aso Gogaku mountains, gentle plains of the northern outer rim, and rugged southern caldera rim.
Related Geo-points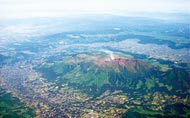 Aso Caldera
Formed by massive pyroclastic flow eruptions between 270,000 and 90,000 years ago, Aso Caldera is one of the world's largest and most well-preserved calderas. It provides an outstanding opportunity to observe the collapsed topography caused by eruptions.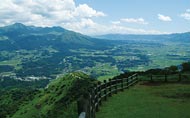 Tawarayama Lookout
The view of Minamiaso from Tawarayama Lookout is outstanding. Although the number of visitors has decreased since 2003, when a new tunnel taking traffic closer to the mountain's peak opened, the lookout was up until then situated on the key route into Aso's southern side. Emperor Showa stood at the lookout in 1985 when he visited the area for a tree planting ceremony.